Sovereign Awning Service
Awnings Supplied & Fitted in the UK
Sovereign Awnings provide a free quote service to discuss your awning needs. If you're local to our awning headquarters in Wigan, one of our experienced representatives will meet you on site at your home or business to measure up and provide a quote for your commercial, garden or patio awning.
If you live outside of the North West, we can provide a free quote over the telephone based on the measurements and desired location of the awning.
We have a range of awning styles and fabrics to choose from and can help you to decide which one will be suitable for your requirements and budget. We also offer an optional signwriting service which is perfect for businesses who are looking to enforce their branding outside of their establishment.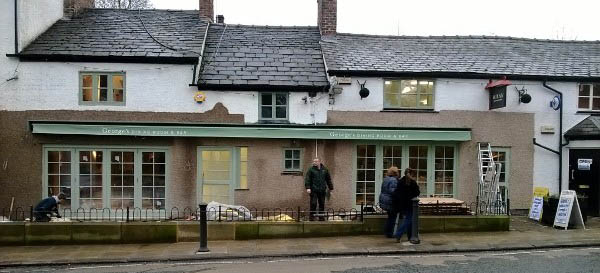 Once you've chosen and confirmed the order of your awning, we will keep you informed of its arrival and discuss with you a suitable day and time for our highly trained team to fit your awning.
Once your awning has been fitted, our specialist fitter will discuss any questions you have about your new awning and will spend time with you to demonstrate how to operate your new Sovereign awning system.
Awning Supply-Only Service
For UK customers who wish to purchase the awning only, we can discuss your awning requirements and provide a quote over the telephone as part of our 'supply only' service.
Once happy with your selection, we can ship the awning to your delivery address in the UK where you can contact your local tradesman to fit your new Sovereign awning for your garden patio or commercial business.
Aftersales Service & Guarantee
We pride ourselves on delivering a stellar service to all of our customers, which includes quality aftersales care. Should you have any questions about your awning purchased from Sovereign Awnings or need technical assistance in the rare case of malfunction, we will be happy to help.
All of our awnings come with a 5 year guarantee.